Dental X-Rays in San Jose, CA
Since 1980, McKee Dental X-Ray has proudly provided dentists, endodontists, oral surgeons, orthodontists and other modalities with superior intraoral and extraoral images in San Jose, CA. Read on to learn more about McKee Dental X-Ray; we take great pride in our ability to provide doctors and patients with the best quality imaging results, using the latest imaging technologies.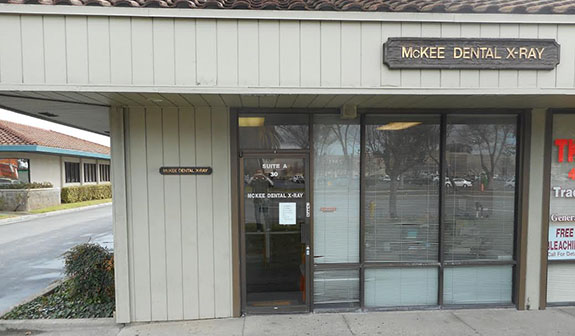 The Leader for Dental X-Rays
When you have a need for oral or maxillofacial images in San Jose, CA, the first and best choice for imaging is McKee Dental X-Ray. For more than three decades we've been the premier provider of comprehensive dental imaging to dentists, oral surgeons and orthodontists, as well as specialty modalities requiring thorough and detailed dental x-ray surveys. Our specialty services include three-dimensional images, precise information of all maxillofacial and oral structures, imaging services, cone-beam i-CAT images, and much more. There's simply no dental mapping procedure we're unfamiliar with.
More than just having the capabilities to provide imaging, clients and patients trust McKee Dental X-Ray for our knowledge and experience. Every one of our employees is very experienced with a depth of knowledge about best practices, imaging capabilities and a myriad of other pertinent topics. Our focus also expands beyond just dental imaging—we're your resource for essential services such as implant studies and nerve recognition in San Jose, CA. Take a look at just a few more reasons we continue to be trusted as the premier resource for maxillofacial and oral imaging, and why you should learn more about McKee Dental X-Ray and contact us today:
We're on the board of directors for the American Association of Dental Maxillofacial Radiographic Technicians.
We're a locally owned and operated business in San Jose, CA.
Our staff has more than 35 years of professional experience regarding dental x-rays in San Jose, CA.
Our facilities are conveniently located, with easy access to the freeway (HWY 680).
We use state-of-the-art equipment to achieve exceptional imaging and are familiar with innovative techniques in San Jose, CA.
---
---
Areas Served:
We offer the best in three-dimensional x-rays for anyone in and around:
San Jose, CA
Santa Clara, CA
Campbell, CA
East Foothills, CA
Milpitas, CA
Cupertino, CA
Sunnyvale, CA
Saratoga, CA
Los Gatos, CA
Mountain View, CA
Los Altos, CA
Los Altos Hills, CA
Fremont, CA
Palo Alto, CA
Newark, CA
Stanford, CA